Hey beauties and happy Thursday! Hopefully you guys are still sticking to your New Years fitness resolutions and if you aren't then I have the perfect Subscription box for you. This box will motivate you to continue your fitness journey while being stylish and cute. Today I'll be reviewing the "Her Fit Club Subscription box" which is obviously a fitness box, but you can also receive beauty products as well which is awesome. So, before you choose what membership level you'd like, you'll be asked a few questions so your subscription box is personalized to your style. Some of the questions are sexy or a little more covered. If you would prefer bright, solid, pastel or printed outfits. Would you like capri workout bottoms or full length ones. Lastly, what your bra size is and your pants size. After you answer those questions, you can choose if you'd like a monthly, one time only, or a 3 month subscription box. Now for the different levels Her Fit Club offers.
Fashion Fitbox $64.99/month
You'll receive a workout top and bottom.
Beauty Fitbox $74.99/month
Not only will you receive a workout top and bottom, but you'll also receive a couple beauty products. I love this because it gives you a nice surprise to look forward to after your workouts.
Move Fitbox $79.99/month
This one is pretty cool because you receive a new workout outfit, a piece of home workout equipment, as well as beauty products. This is great if you typically workout at home and you need to spice up your workout routine.
Premiere Fitbox $149.99/month
This is the highest level you can purchase and it's the one I'll be reviewing today. In addition to your new, cute workout outfit, beauty products, and a piece of home workout equipment. You'll also receive a new pair of athletic shoes which is awesome!!! Also, not bad for the price. Now that we know what we can expect in each box, let's begin the review on the "Premiere Fitbox" and then you can decide if it's worth it. Her Fit Club Boxes come in a cute white box with a beautiful pink tape with their logo around the box which I love. All it's missing is a cute bow and it'll be a present.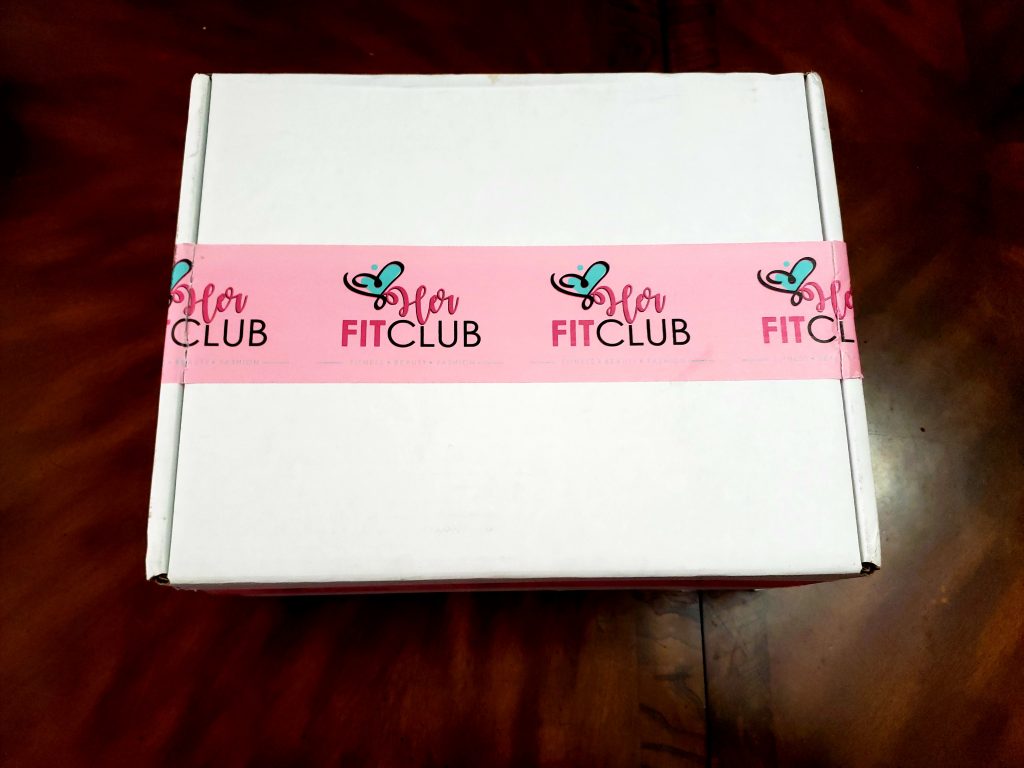 When you open the box, you'll find a well packaged box with tons of goodies!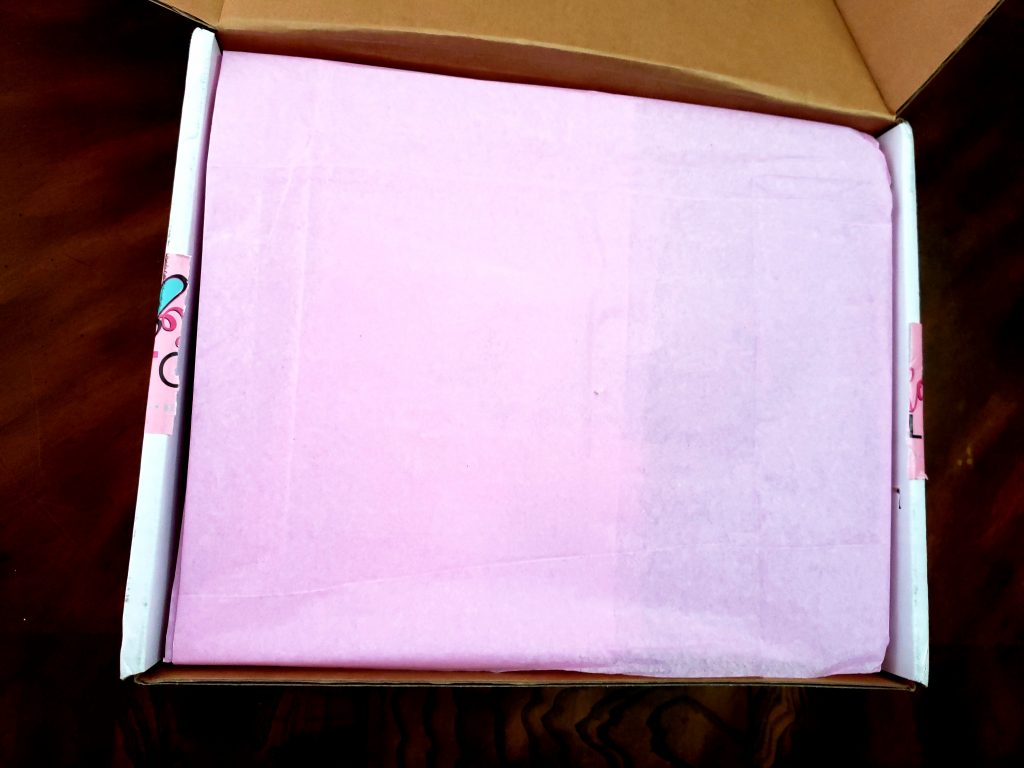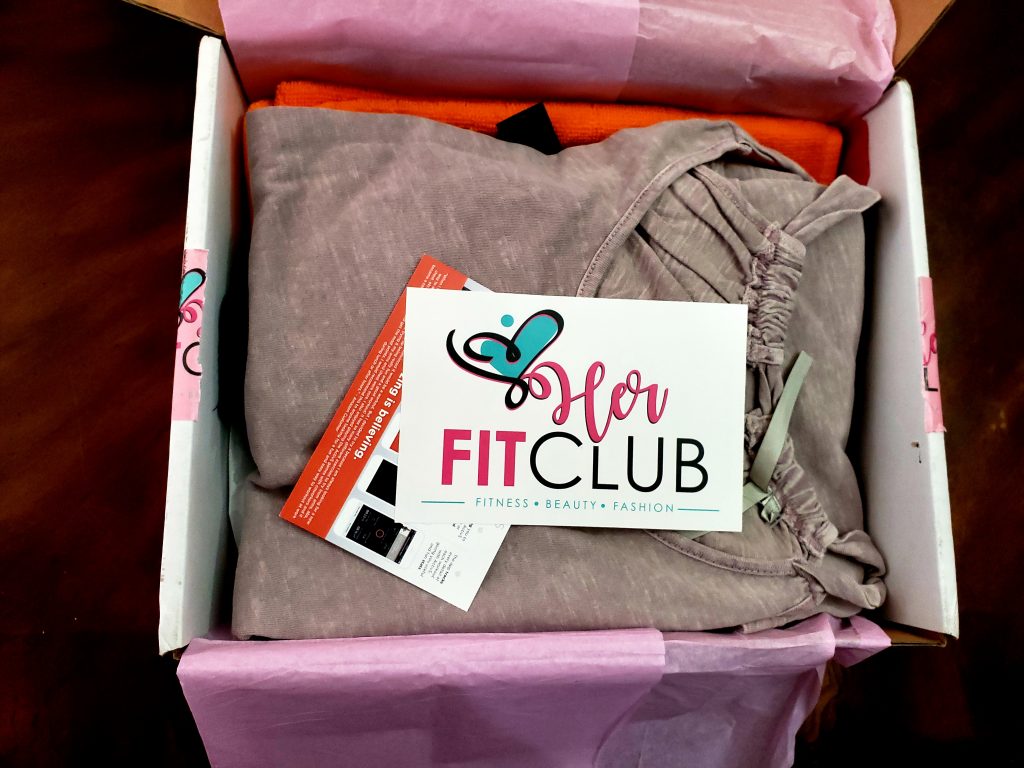 At the top of the box is a sticker and underneath that is a coupon code which is nice that they include these items. It makes you feel like your part of the club. Now, for the fun part. What's inside the box!
Workout Outfit
The first item my eye instantly went to was this activ5 fitness towel which retails for $14.95. This towel is not only used to wipe your sweat, but also so you can spread it on the floor if you're doing a workout that requires you to lay on the floor.
---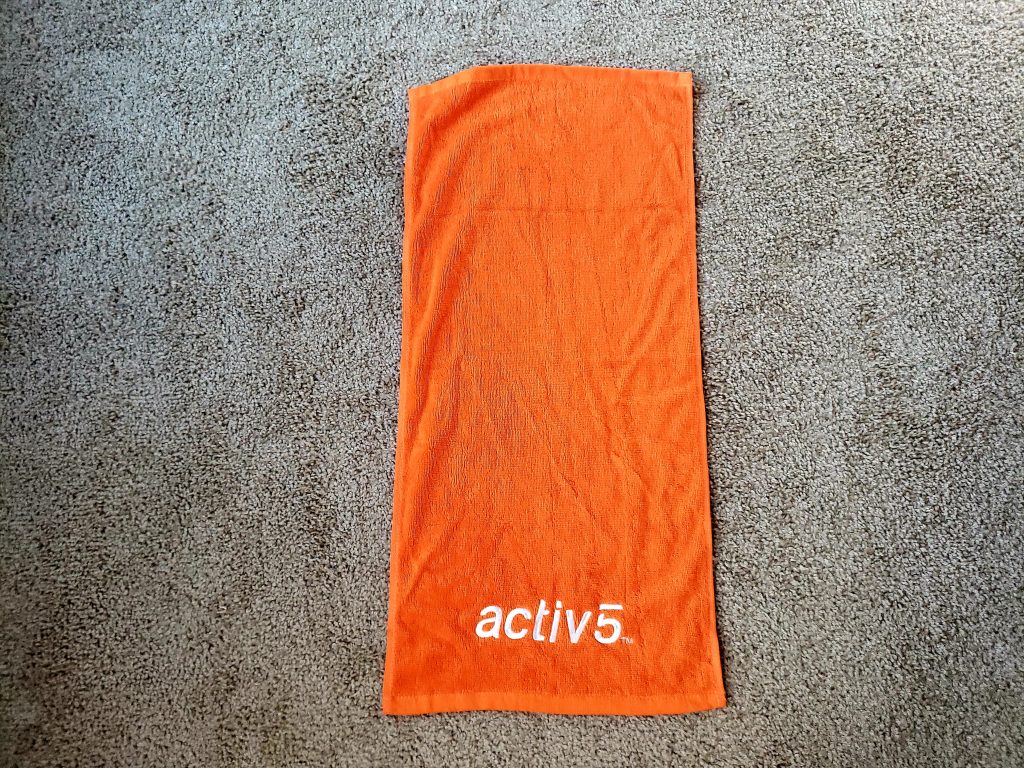 The second item is a cute little sports bra in black from the brand "Mono B". This brand is pretty exclusive because you can't purchase it in stores. The front of the sports bra has cut outside, but don't worry because the front isn't see through, there is a lining underneath.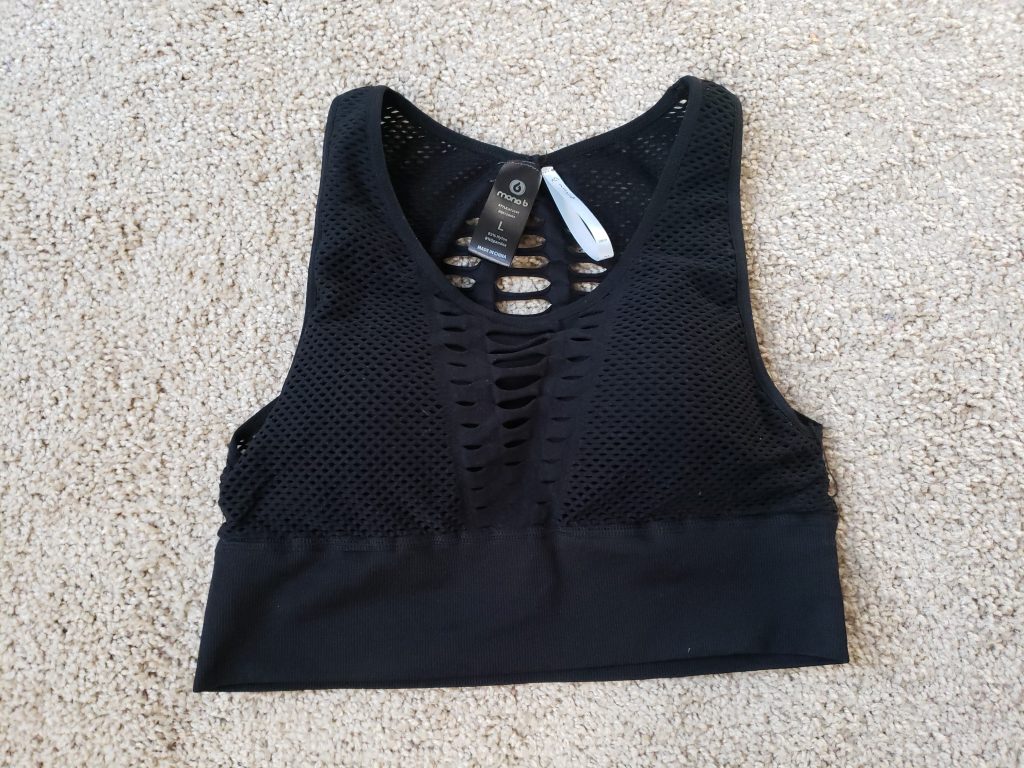 The back however is see through, which adds a little sexiness to your boring workout top.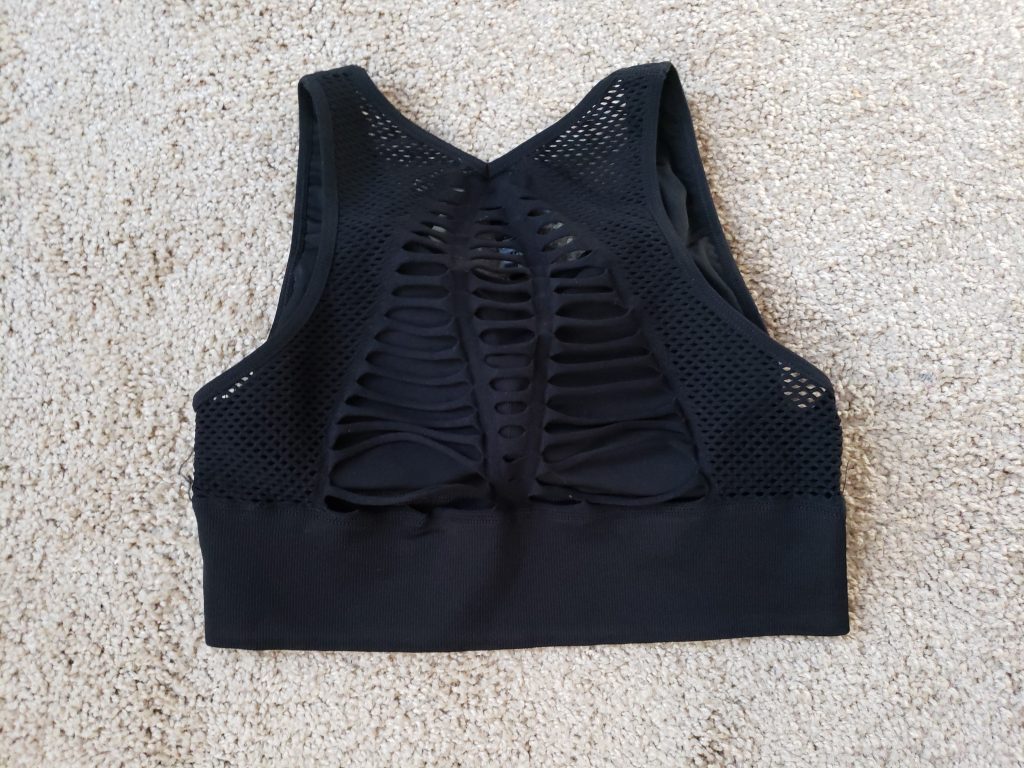 The next item is a top that can be worn over this sports bra to cover you up a little. It's a nice flowy top and the color is beautiful. The back has a keyhole design and once again from the brand "Mono B"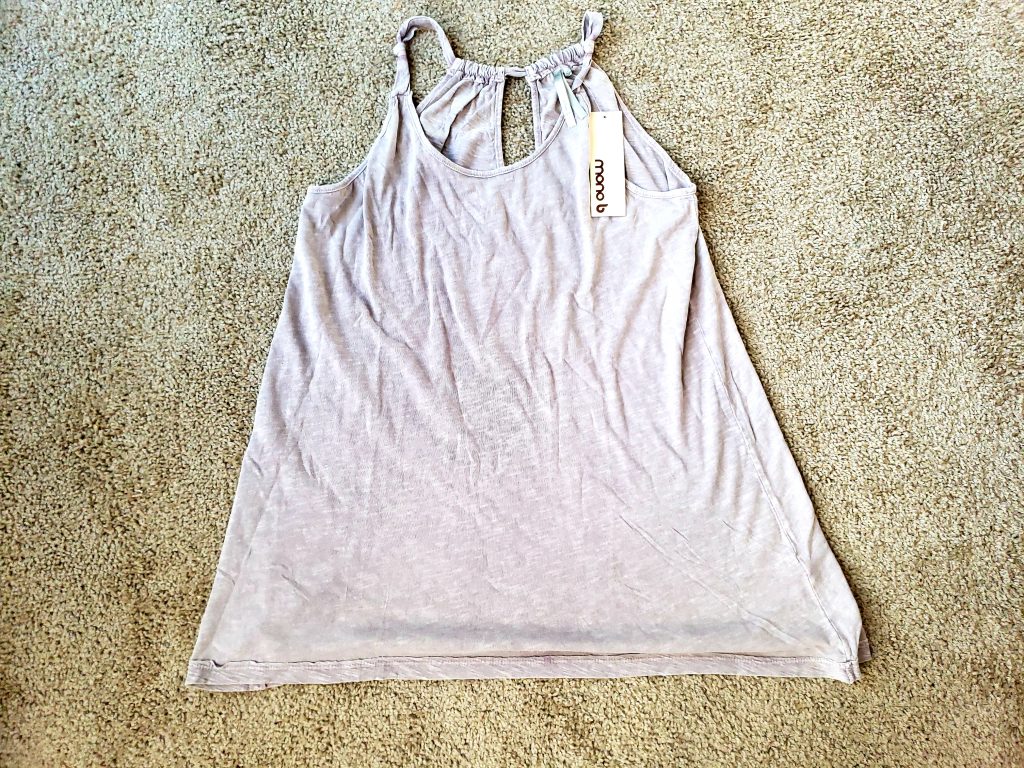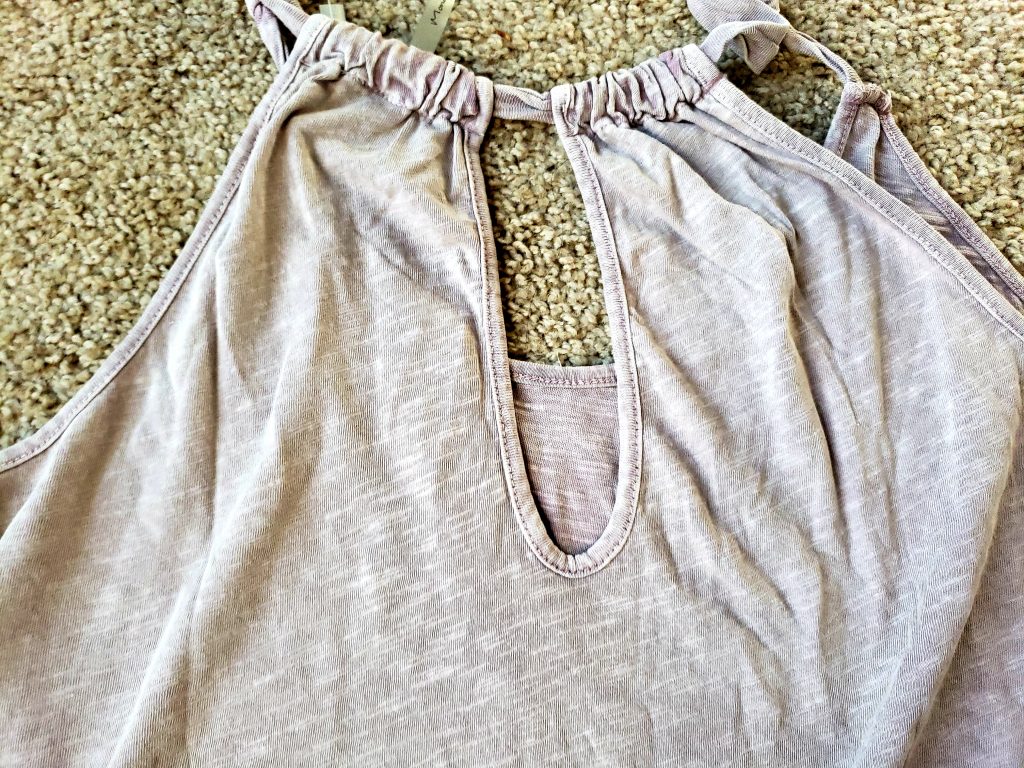 Now for the pants which is also from the brand "Mono B" and it's in white which I would never think of purchasing, but these are so cute and detailed. There's 2 little zips on each side of the workout bottoms which reveal deep pockets. The bottom of the workout bottoms have such a cute little design which adds a little fun to it.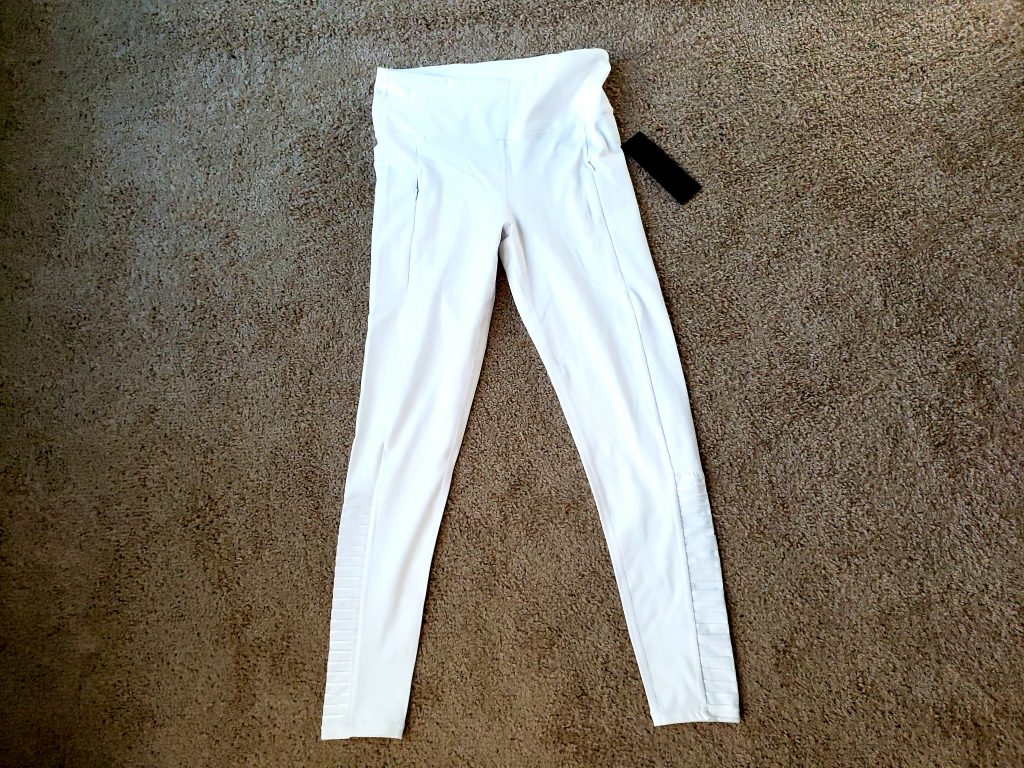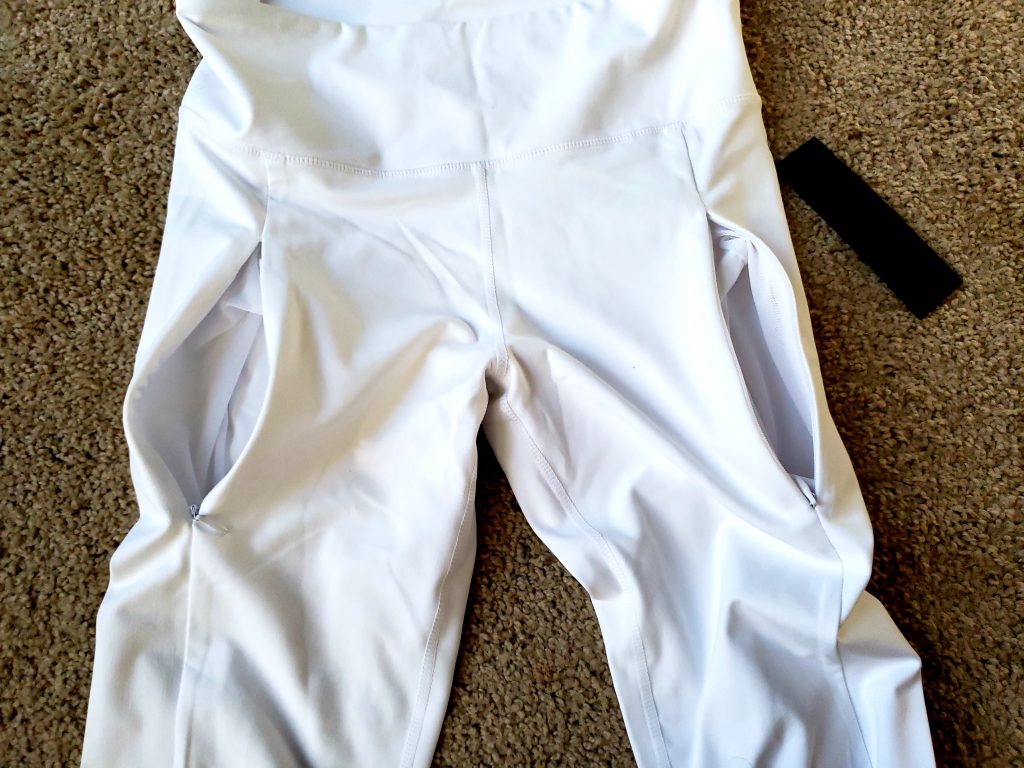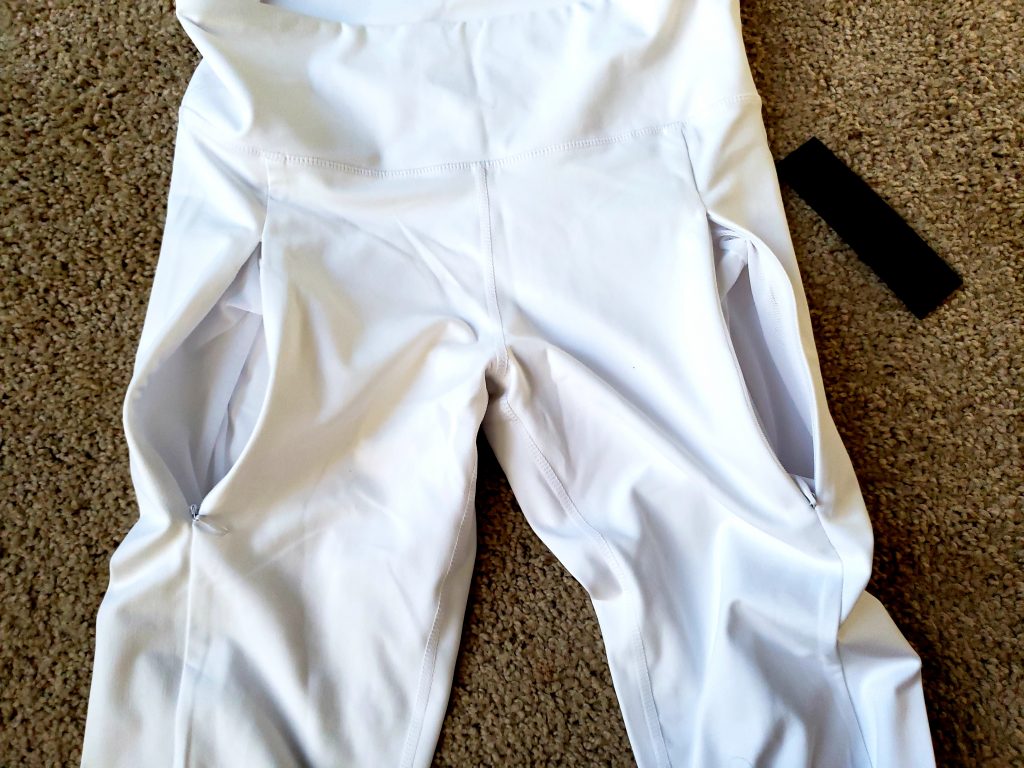 For the beauty products, I received 2 bath bombs which smell amazing and a body shop shea butter body Spray. I love body shop scents so I was thrilled to receive this. The shea butter scent is very subtle smelling and it'll keep your from smelling funky.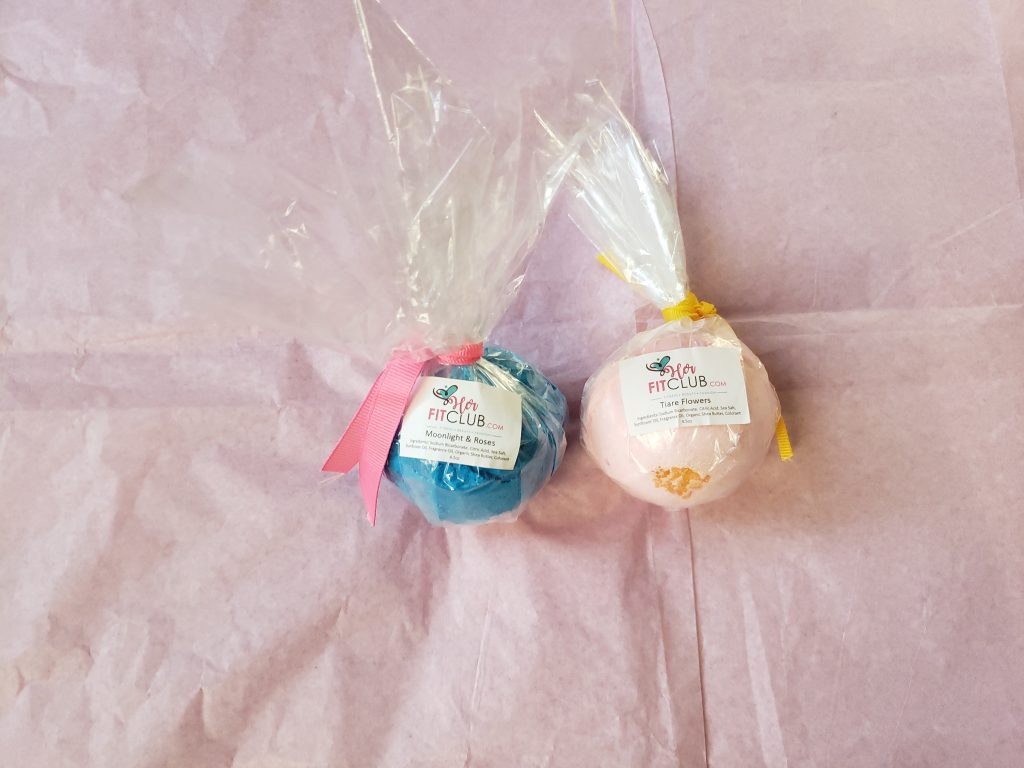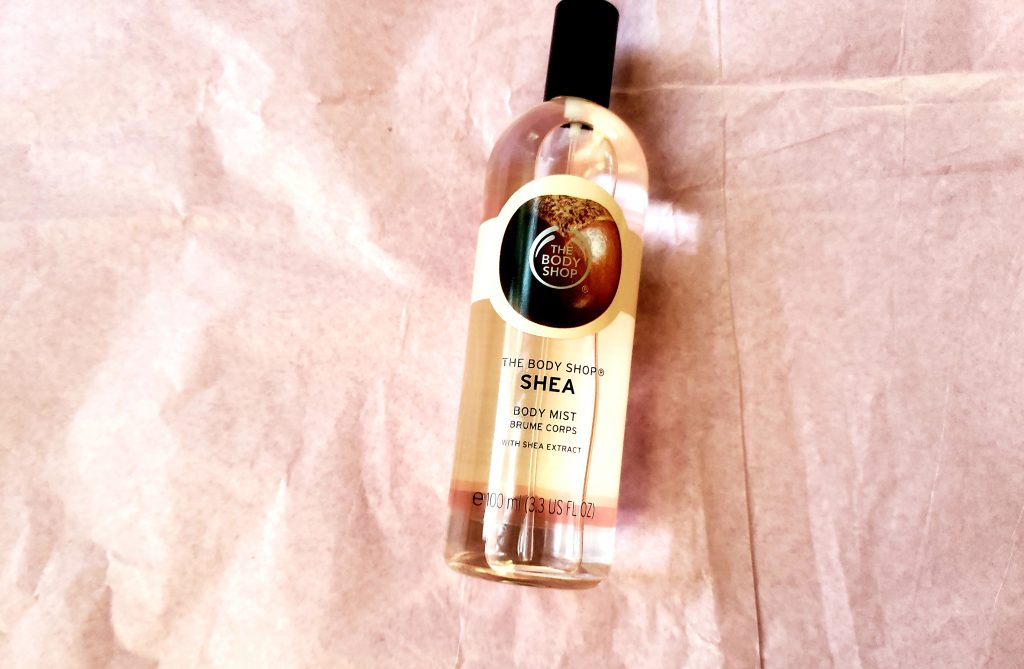 The workout equipment that was included in my box is 4 restraint bands. This is cool because each color gets tighter and tighter. I've used this a couple times already, and I even had my husband try it with me. It'll definitely be included in my home workout routine.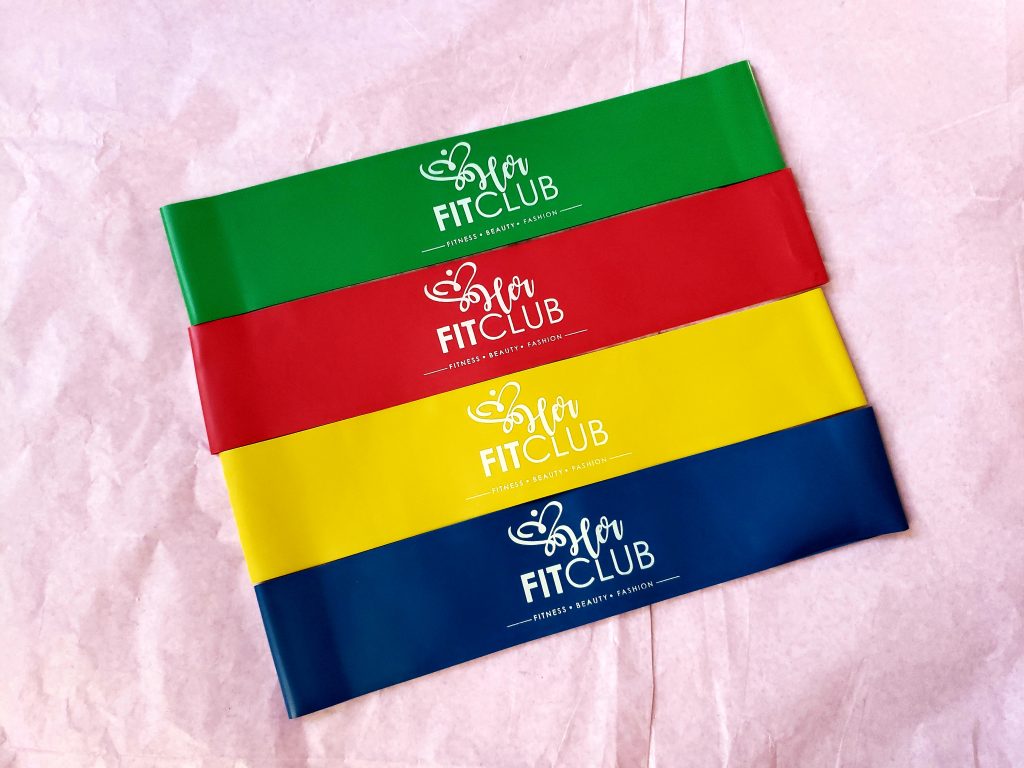 Last but not least, the shoes are so cool, colorful and fun! It's by the brand "ASICS" the type of shoe is the FuzeX running shoes. These shoes retail for $99.95. I tried these shoes on and I loved the weightlessness of them. Not to mention, how fun the colors are.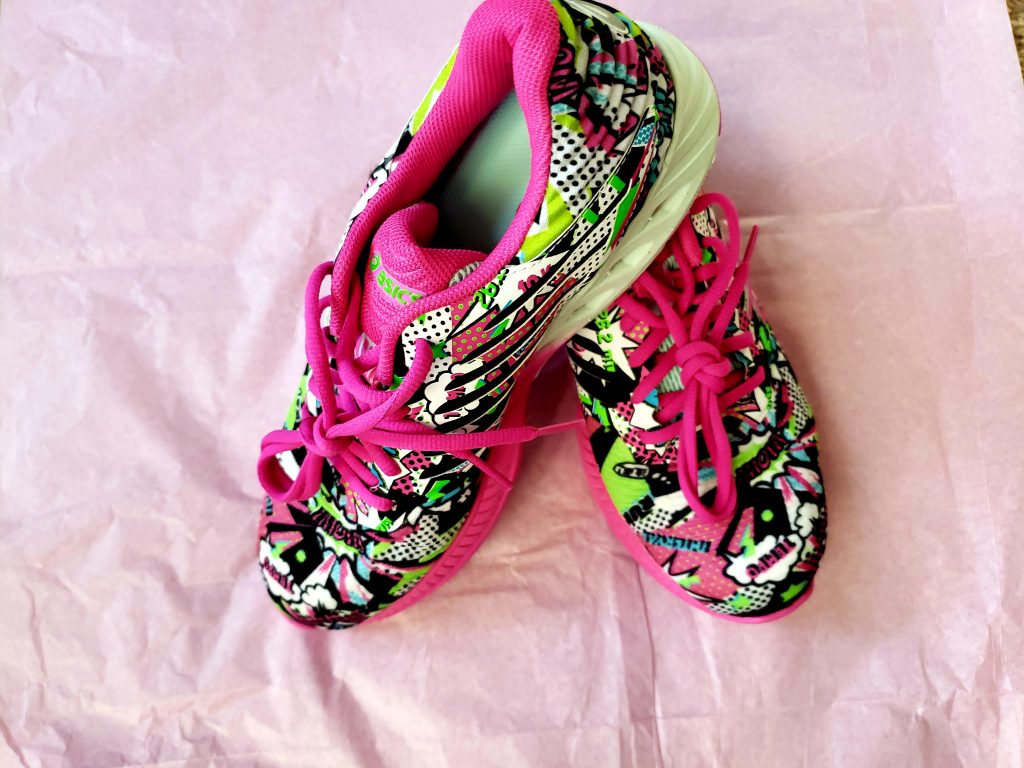 This concludes my review on Her Fit Club box. I hope you guys enjoyed it! Have you ever subscribed to one of their boxes? If so, let me know what your thoughts of it are. If you're interested in this subscription box make sure to visit
Her Fit Club
and start personalizing your box! Also, be sure you're following my blog so you're notified whenever I post!
Business Inquiries Only
email me at aleeyaazimulla@gmail.com *Disclaimer: I was sent these products in exchange for an honest review. All opinions are my own and honest as always. Some links may be affiliate links which means I make a small commission if you purchase the item through my link. Thank you for your support and stay beautiful!