Hey Beauties and happy Thursday. Today's review will be on the Yogi Surprise Subscription Box. This subscription box offers three boxes which are the Yoga Box, Jewelry Box, and the Men's Yoga Box. Not to mention they are the #1 Yoga Subscription Box out!
Before I get into the first Yogi Surprise Jewelry Subscription Box review for 2019, let me tell you a little bit about the different boxes that Yogi Surprise offers.
Yoga Box $44.95/month + free shipping in the US
According to Yogi Surprise, you can expect to receive pure essential oils, natural skincare and body care products, candles, intention setting crystals, books, handmade journals, yoga props, accessories and so much more. Plus, keep your practice fresh with our monthly yoga sequence card! This box will always have an $85+ retail value in every box you receive!
The Jewelry Box $24.99/month + free shipping in the US
According to Yogi Surprise, this box offers you uniquely designed, body care pieces ranging from hand-crafted mala bead necklaces to diffuser jewelry. Every piece is inspired by the essence of beauty, peace, and mindfulness. This box is guaranteed to have a retail value of over $65!
Men's Yoga Box $59.95/month + free shipping to the US
This box is a big deal because it's the first ever Men's yoga box! This is super exciting and this is definitely making history. According to Yogi Surprise, sometimes, for guys, it's even harder to find men's products that align with your values. This is the reason they've created this box. This box guarantees to have a retail value of over $135! Now, that you have all the pricing details… Allow me to give you a peek inside this vibrant purple box that's waiting for me to open it! The first thing you'll see when you open the box is a card giving you details of all the items in the box.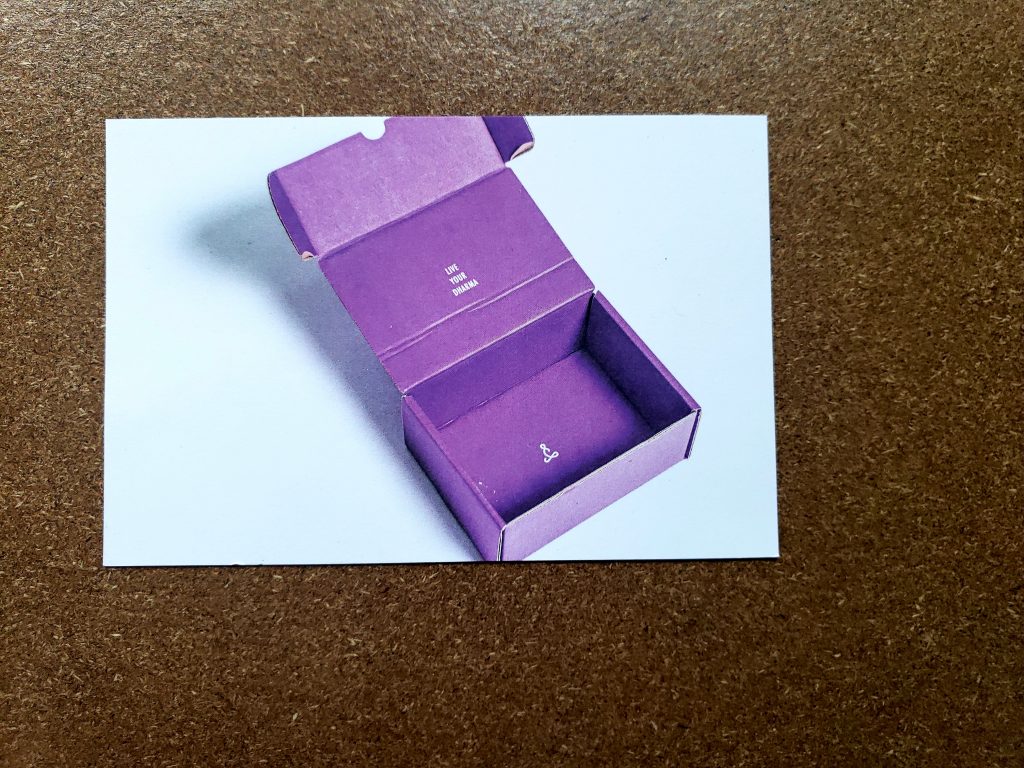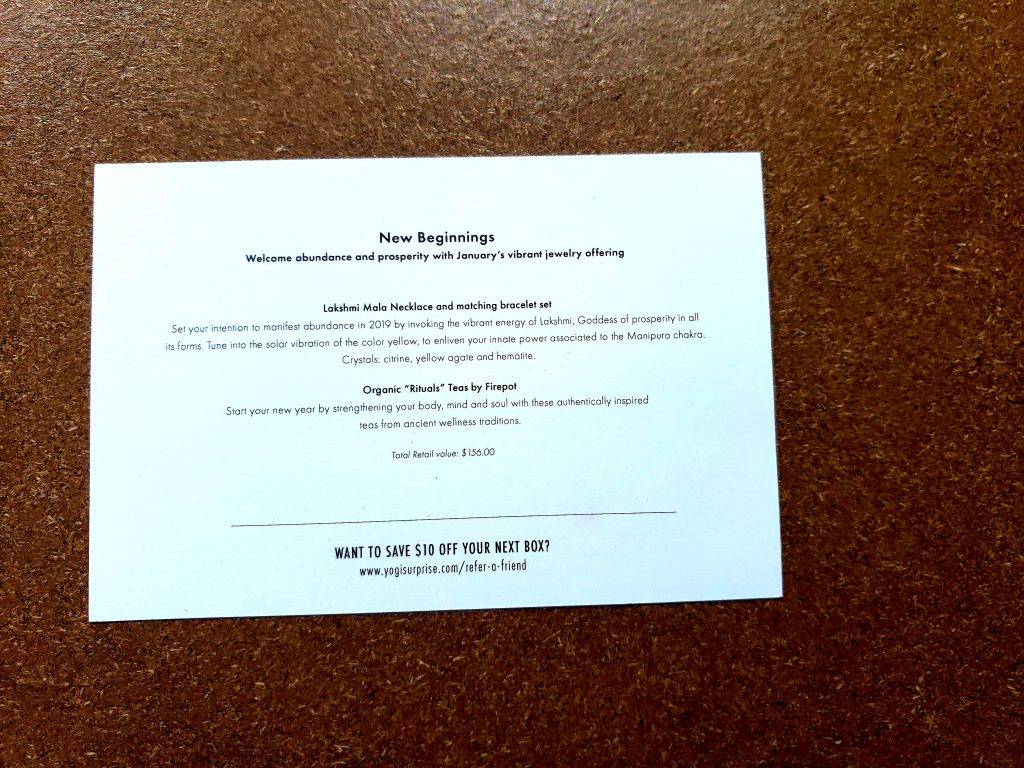 At the end of the card, it shows the total retail value for all the items combined, which this months total was $156 which is insane!! Now, let's get on with the most exciting part!! What's inside the box?!
Lakshmi Mala Necklace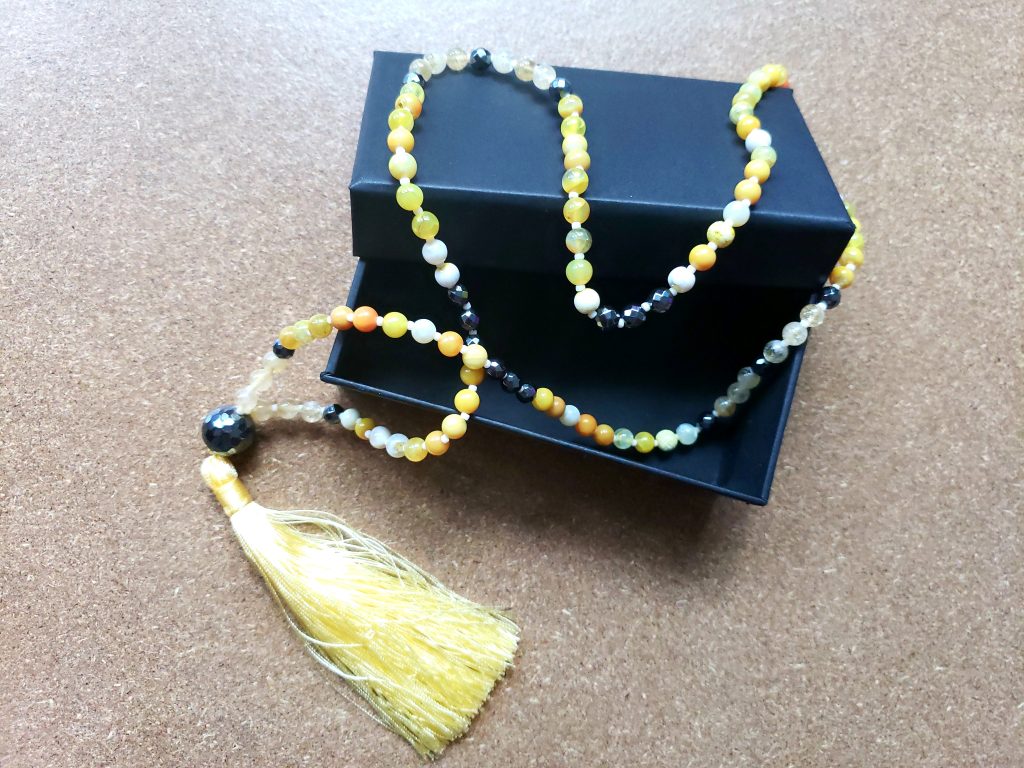 This necklace is beautiful. vibrant and yellow. It instantly changes your mood to happy which is perfectly named because Lakshmi is the Goddess of prosperity. This necklace will look absolutely gorgeous with white yoga top and last months Om Diffuser Mala Necklace! The color combo would be gorgeous and definitely eye-catching.
Matching Bracelet Set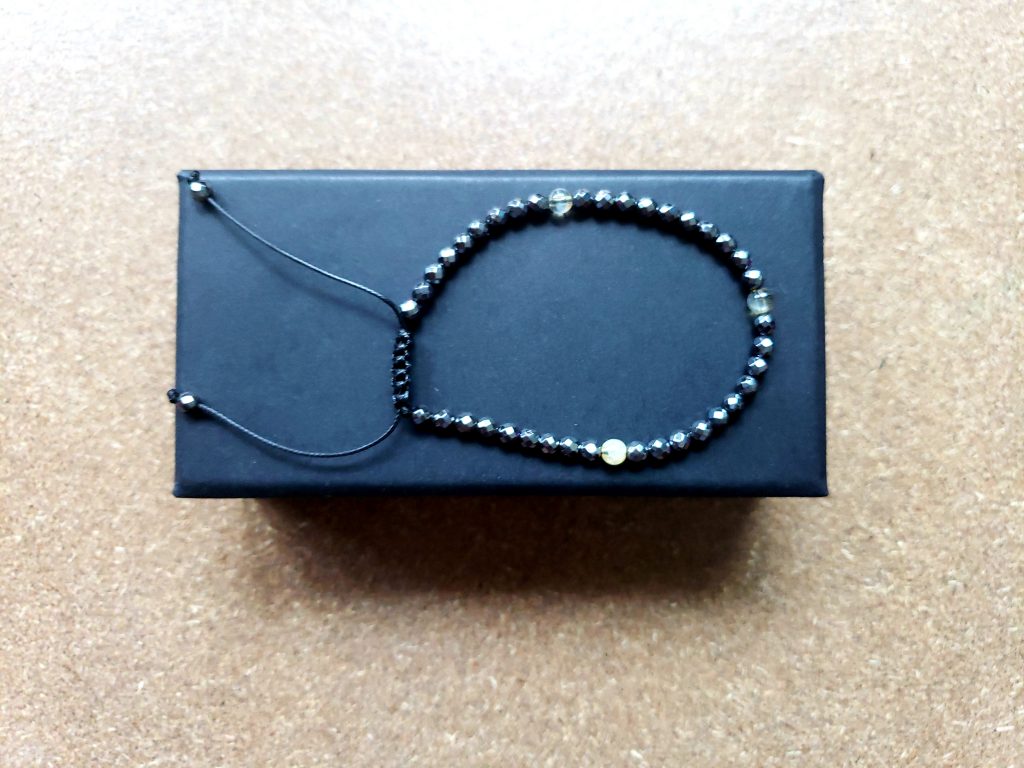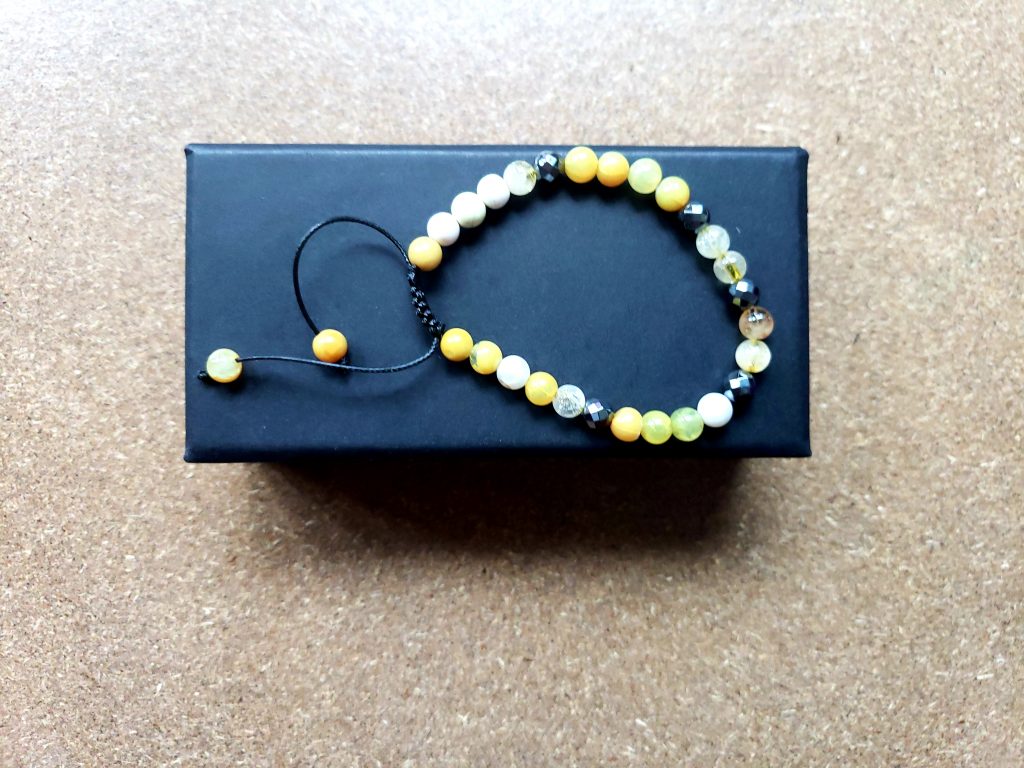 The matching bracelet set is gorgeous. One is a beautiful grey color and the other one is a vibrant yellow. Not only will it look extremely adorable with any spring or summer outfit you choose, but it will also radiate positivity on you because of the stones used.
Organic "Rituals" Tea By Firepot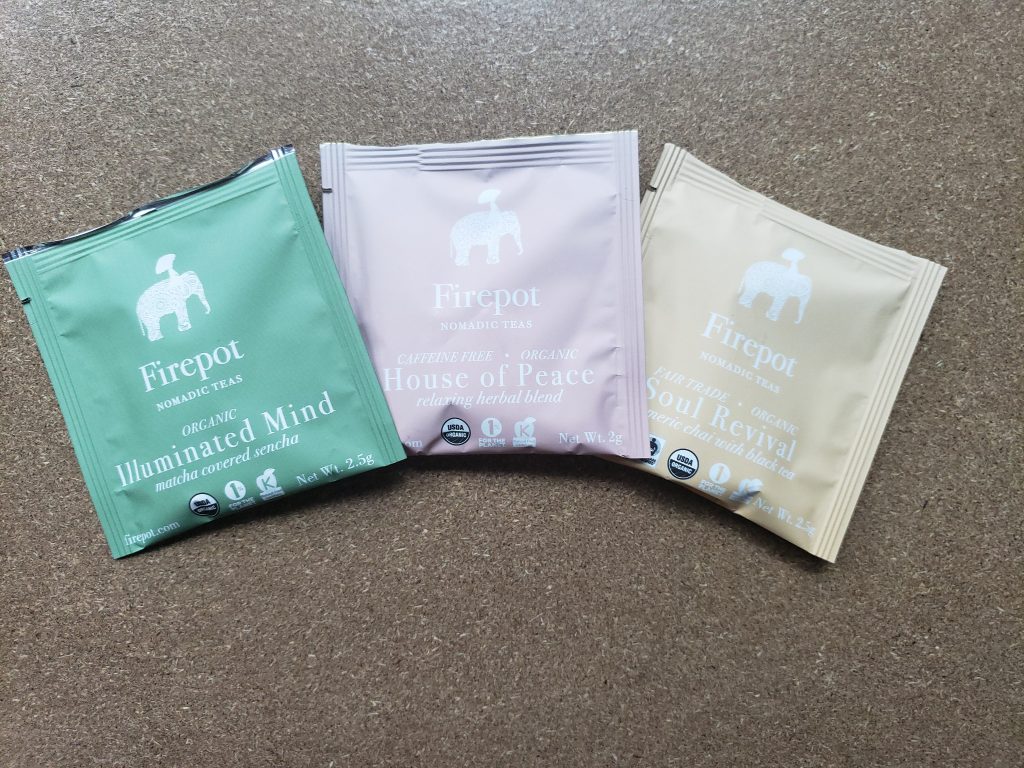 Everyone who knows me knows my obsession for tea. I have a cup mostly every morning but at night, I make sure to have a cup before I go to bed. I love each of these teas, I made sure to try them all before I wrote this review. My favorite was the "Illuminated Mind" the green tea they used for this was phenomenal. I loved how the tea bags were shaped as pyramids. I thought it was so cute.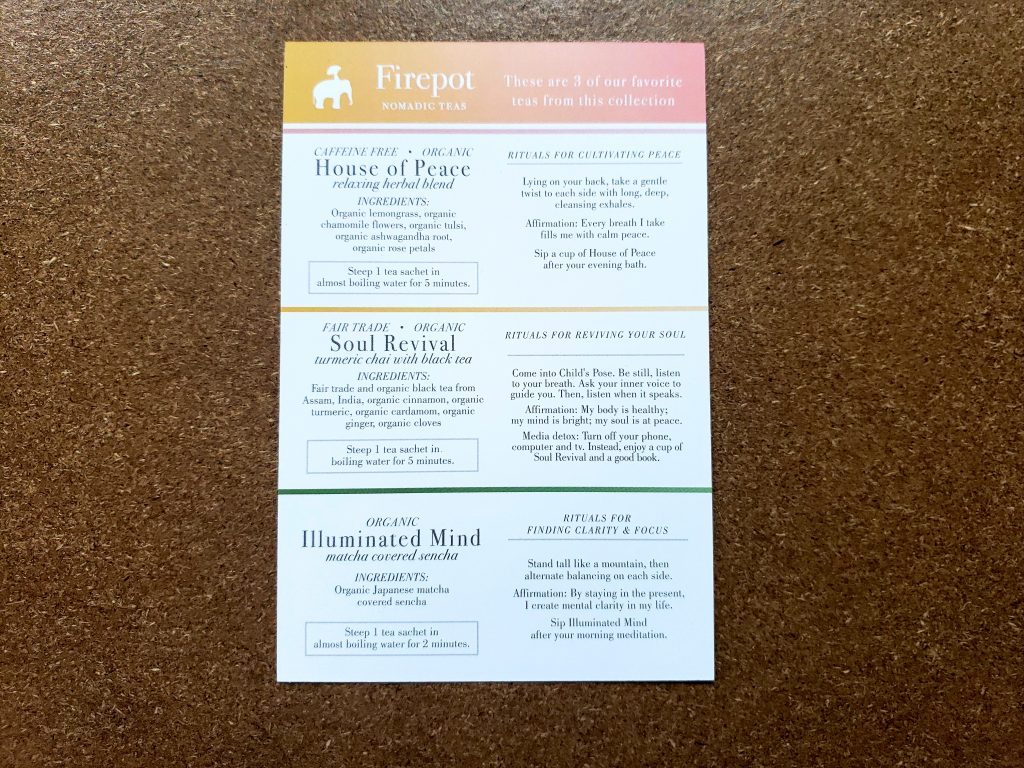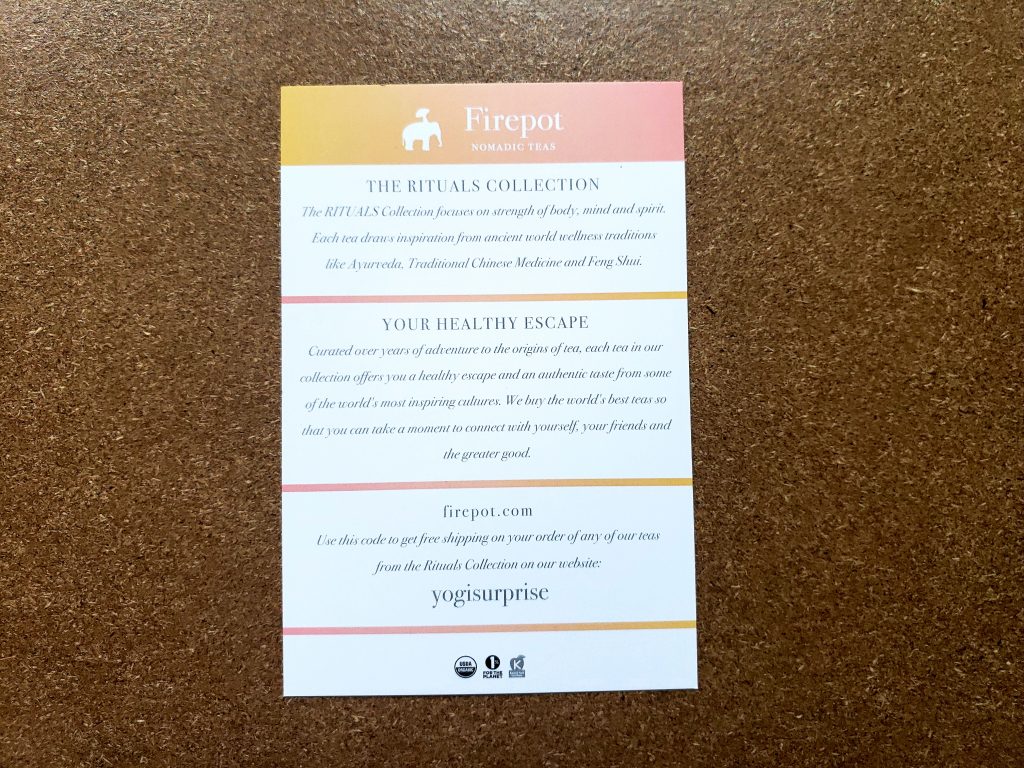 There was also a little card telling you some ways to practice finding peace, finding the soul and focusing. It also gives you the ingredients of each tea bag. I love that they chose their 3 favorite teas from their collection to add in this box. It was thoughtful. All in all, I would recommend this subscription box for many reasons. The pieces in these boxes are adorable, great gift, gives you pointers on how to stay peaceful, and there's a box for everyone. This wraps up my Review for Yogi's Surprise Jewelry Box for January 2019! I hope you guys enjoyed it! If you haven't already, make sure to head on over to
http://www.yogisurprise.com
to start a subscription. You won't be disappointed at all!
New Posting Schedule
My new posting schedule is going to be:
Beauty Blog:
Tuesdays and Thursdays
Travel, Food and Lifestyle Blog:
Monday, Wednesdays and Fridays
Enjoyed this blog post?! Make sure to follow this blog so you're notified whenever I post!
Check out my Lifestyle, Food and Travel blog to get a sneak peek of my life beyond makeup Here
Business Inquiries Only
email me at aleeyaazimulla@gmail.com *Disclaimer: I was sent these products in exchange for an honest review. All opinions are my own and honest as always. Some links may be affiliate links which means I make a small commission if you purchase the item through my link. Thank you for your support and stay beautiful!