Hey Beauties and happy Tuesday. Today's review will be on the Yogi Surprise Subscription Box. This subscription box offers three boxes which are the Yoga Box, Jewelry Box, and the Men's Yoga Box. Not to mention they are the #1 Yoga Subscription Box out!
Before I get into the Yogi Surprise Jewelry Subscription Box review, let me tell you a little bit about the different boxes that Yogi Surprise offers.
Yoga Box $44.95/month + free shipping in the US
According to Yogi Surprise, you can expect to receive pure essential oils, natural skincare and body care products, candles, intention setting crystals, books, handmade journals, yoga props, accessories and so much more. Plus, keep your practice fresh with our monthly yoga sequence card!
This box will always have an $85+ retail value in every box you receive!
The Jewelry Box $24.99/month + free shipping in the US
According to Yogi Surprise, this box offers you uniquely designed, body care pieces ranging from hand-crafted mala bead necklaces to diffuser jewelry. Every piece is inspired by the essence of beauty, peace, and mindfulness.
This box is guaranteed to have a retail value of over $65!
Men's Yoga Box $59.95/month + free shipping to the US
This box is a big deal because it's the first ever Men's yoga box! This is super exciting and this is definitely making history.
According to Yogi Surprise, sometimes, for guys, it's even harder to find men's products that align with your values. This is the reason they've created this box.
This box guarantees to have a retail value of over $135!
As I said, I'll be reviewing the Yogi Surprise Jewelry Box and let me just say that the shade of purple that they chose for this box alone is so vibrant that will alone put a smile on your face.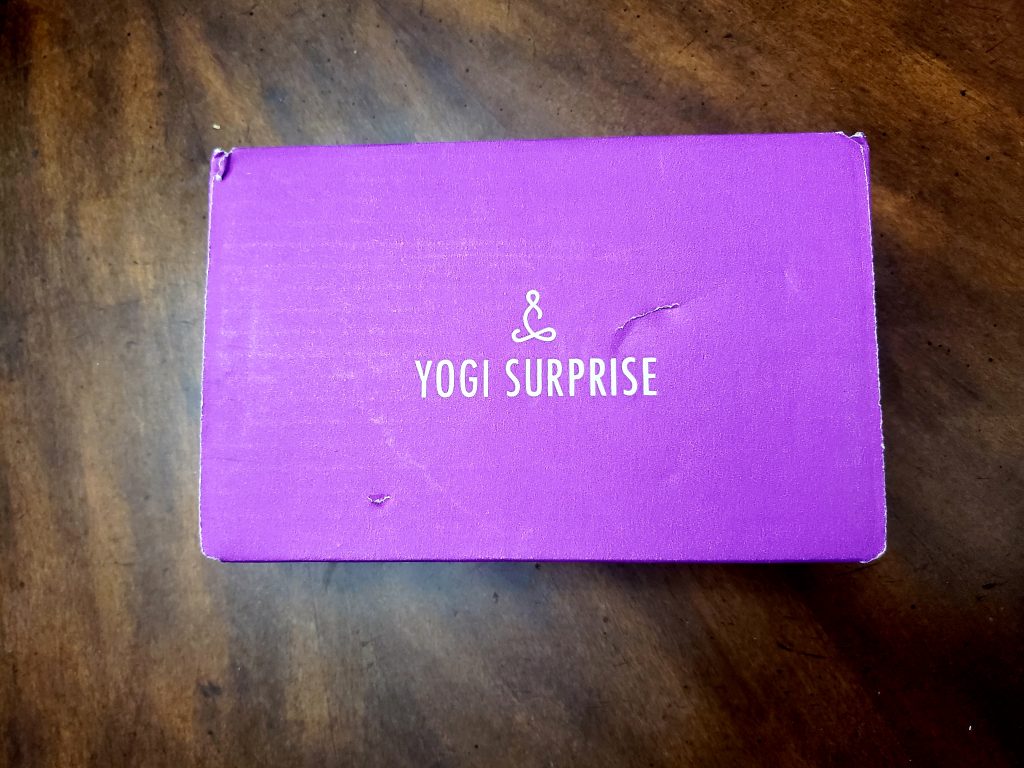 The first thing you see when you open this box is a cute little card that reads "Peace, Love…and chocolate" and a picture of the items in the box. This is so cute because if you're missing anything in the box, you'll know because all the items are shown on this card. Also, chocolate?!?! I was thrilled to get to the chocolate.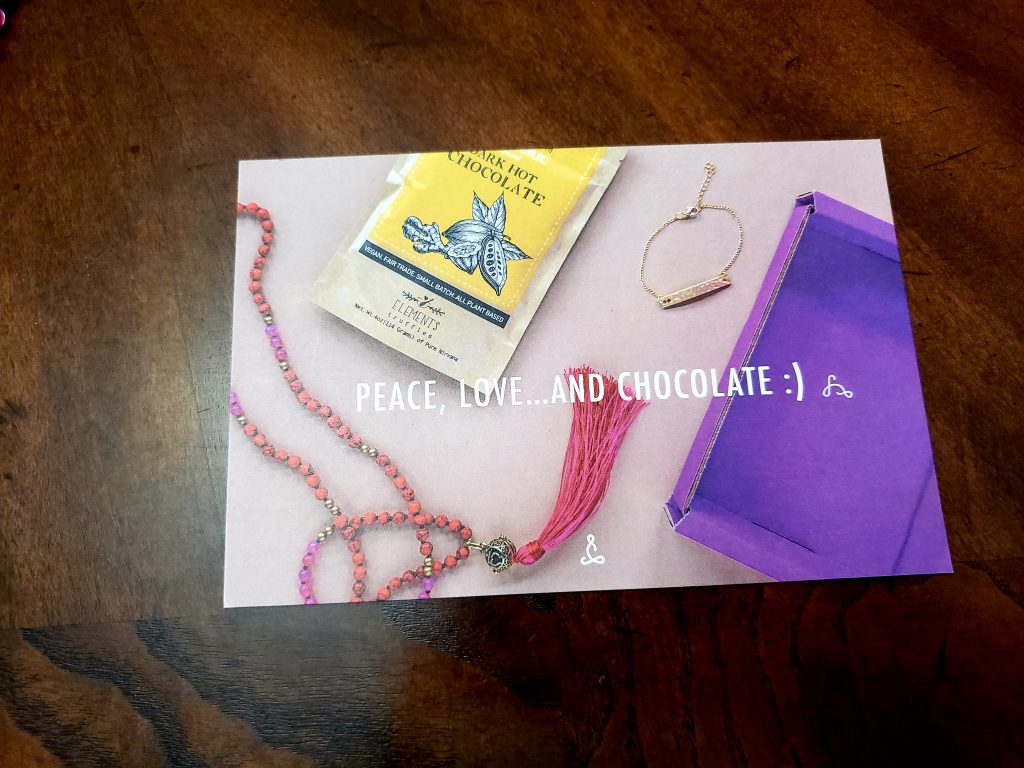 On the back of this card shows the name of each item and a little description of it as well as the total retail value for all of the items.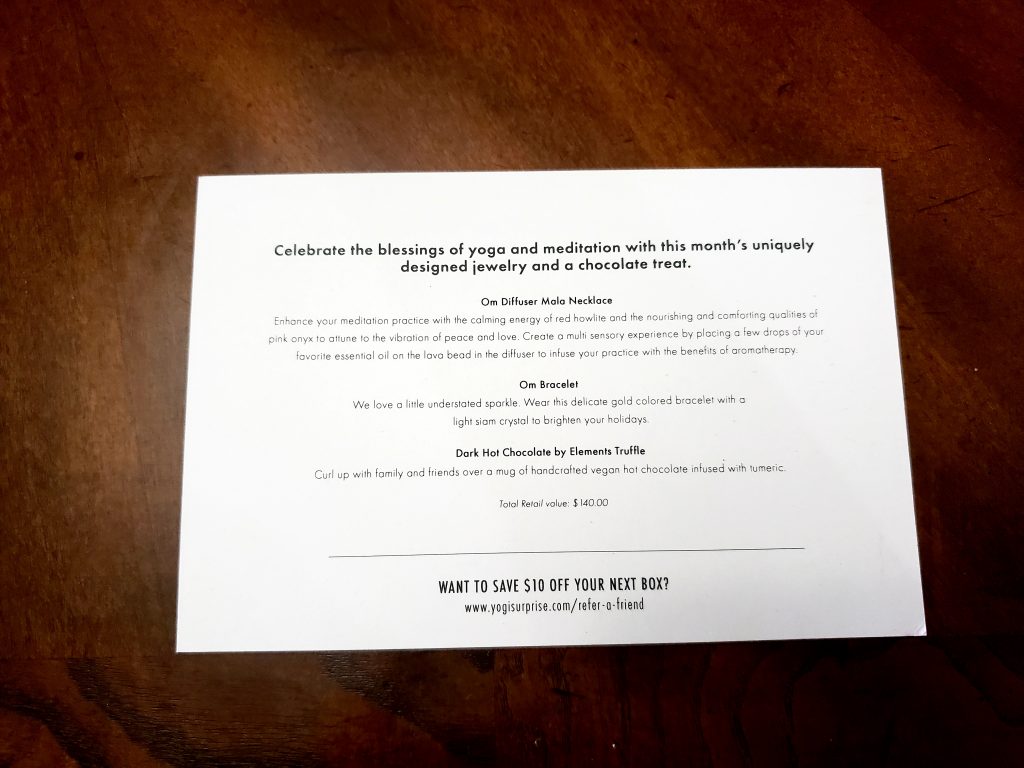 Om Diffuser Mala Necklace
The "Om Diffuser Mala Necklace" has Red Howlite stones and Pink Onyx. Red Howlite stones create a calming energy and Pink Onyx is supposed to be comforting to promote peace and love. You can also add a few drops of your favorite essential oil on the lava bead in the diffuser for a little bit of aromatherapy. It also looks adorable as a fun touch to your workout outfit. It's also a beautiful piece to have around your home as a beautiful decor and it'll radiate peace and love to any room. It would also be great to put in your car so when you add a few drops to the lava bead in the diffuser, it'll leave a soothing scent when you enter your car.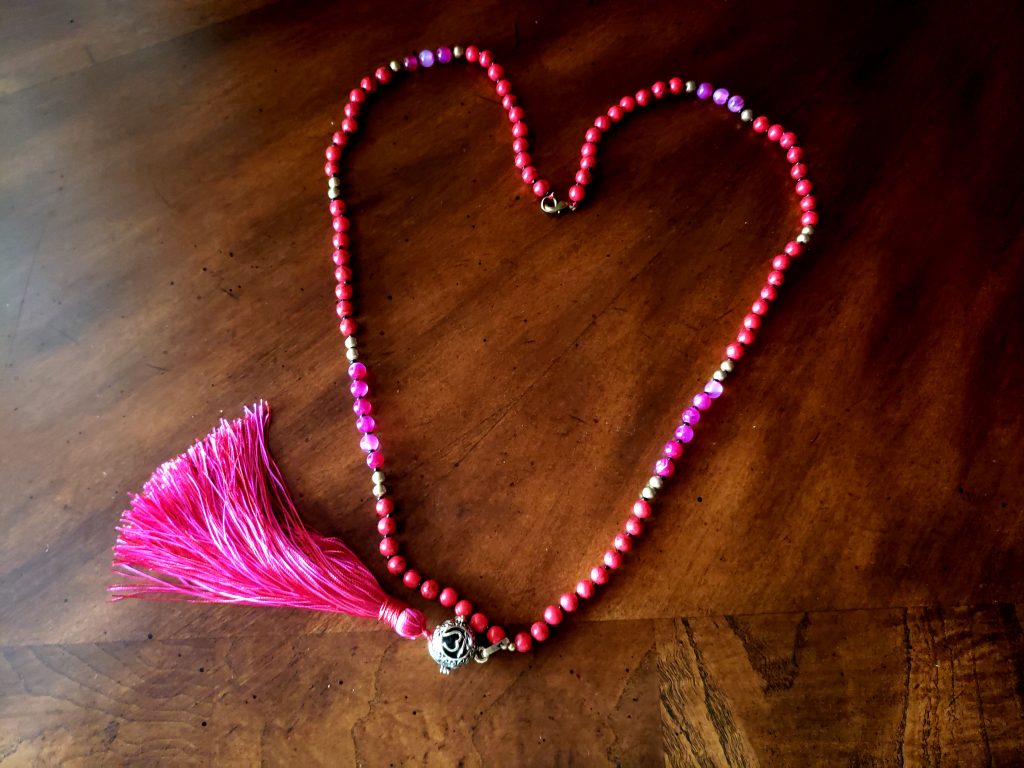 Om Bracelet
This is such a dainty piece. I love the subtle gold color of this bracelet and it has a light Siam crystal on it. According to the card, "a light Siam crystal to brighten your holidays" which is so cute. I've received so many compliments on this bracelet because of how simple and cute it is. I wear this bracelet every day now and I love it.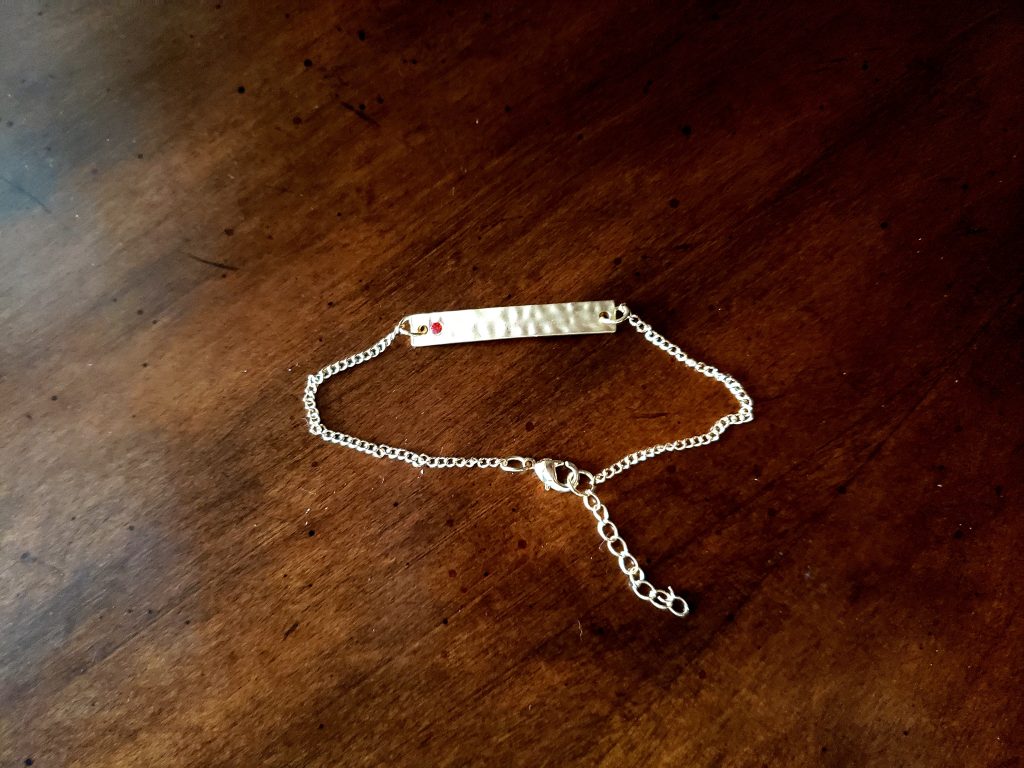 Both the Om Diffuser Mala Necklace and the Om Bracelet came in the cutest little drawstring bag which I love keeping the necklace in so the tassles at the end of the necklace doesn't get tangled and ruined. The drawstring bag isn't made of a cheap material either, so it will last quite a while.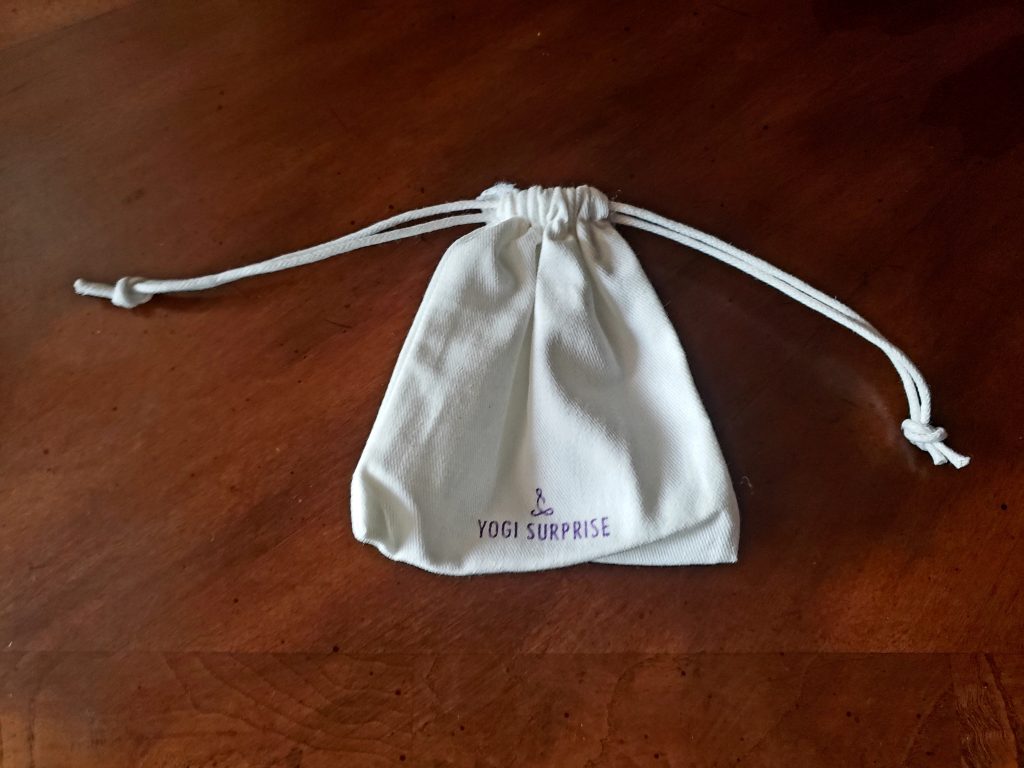 Dark Hot Chocolate by Elements Truffle
Florida has been in the '50s lately, so I've been loving warmer drinks. I already have an obsession with hot chocolate, but this Turmeric infused Dark Hot Chocolate took my obsession to the next level. If you've never tried turmeric before, it has many benefits and being that it's infused in this hot chocolate gives you a great excuse to try it! You won't feel guilty either because all of the ingredients in this drink are organic and it's also vegan which is awesome. If you are not fond of dark chocolate because of the bitterness, I suggest following the recommendations on the package and add a bit of coconut milk or top it off with coconut whipped cream. It'll add tons of sweetness to your drink.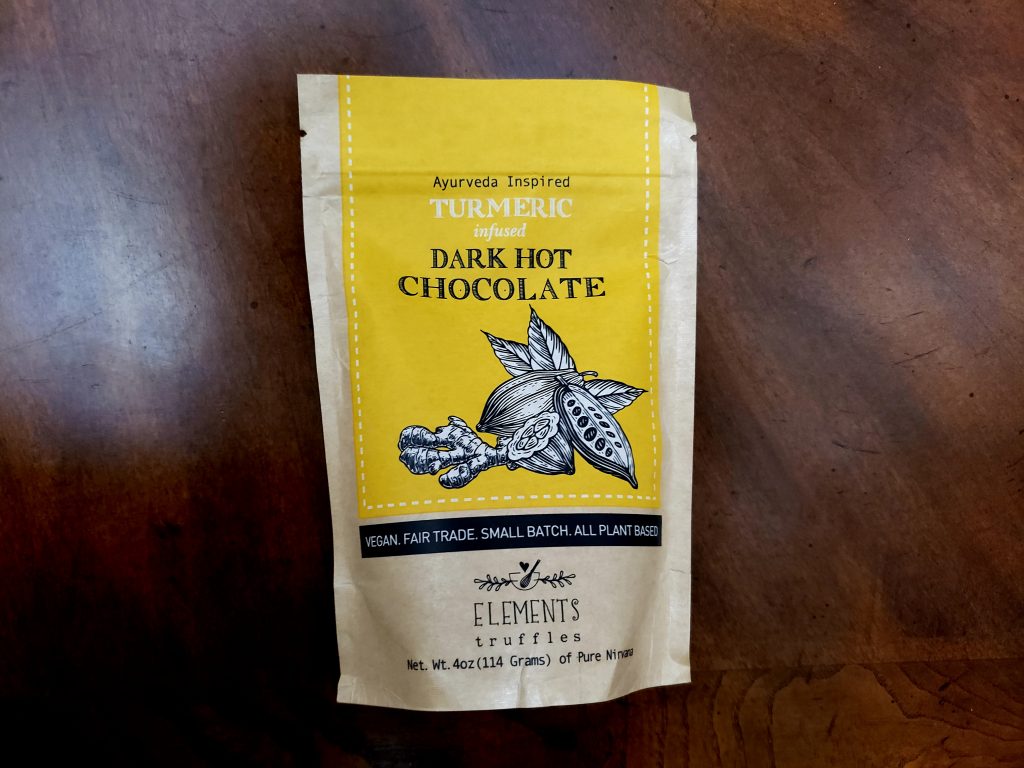 The total retail value of the items in this box is $140 which is mind-blowing considering it's only $24.99 a month and you don't even have to pay for shipping.
I hope you all enjoyed this review! Have you ever tried this Subscription Box? What are your thoughts on it? Let me know in the comments. If you haven't tried this subscription box yet, what are you waiting for?! Head over to Yogi Surprise and start your subscription today because you will definitely not regret this.
Wanna see more?! Make sure to visit my blog to check out some of my latest posts. Don't forget to follow my blog to be notified whenever I post!
What?! She has a Mommy Blog too?! Yes, I do! Click Here to check it out and feel free to follow.
**For Business Inquiries, Sponsorships, PR, etc… email me at aleeyaazimulla@gmail.com **
*Disclaimer: I was sent these products in exchange for an honest review. All opinions are my own and honest as always. Some links may be affiliate links which means I make a small commission if you purchase the item through my link. Thank you for your support and stay beautiful!